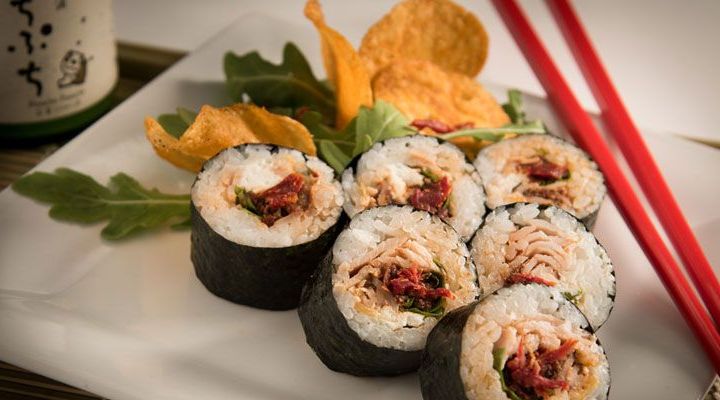 Smoked Turkey, Goat Cheese, Arugula and Sundried Tomato Pesto Sushi Roll Recipe
Ingredients
Sushi Rice:
2 cups sushi rice, washed until water runs clear
2 cups water
3 Tablespoons rice vinegar
1 Tablespoon sugar
1 teaspoon kosher salt
Sundried Tomato Pesto:
¾ cup sundried tomatoes
¼ cup pine nuts
2 Tablespoons olive oil
1 teaspoon kosher salt
2 garlic cloves
⅓ cup parmesan, grated
½ bunch basil
The Filling:
4 ounces goat cheese, whipped
¼ cup arugula
4 ounces smoked turkey, thinly sliced
1 small bag bbq potato chips, crushed
4 sheets nori
Methods/Steps
Make the Rice: In a medium sauce pan with a lid, bring water to a boil. Add a pinch of salt and the rice. Cover and reduce the heat to low, cooking for about 15 minutes. Turn off the heat, and leave covered for 15 minutes more. Transfer to a bowl.
In a small bowl, mix together the rice vinegar, sugar and kosher salt. Drizzle over the rice and mix in with a spatula. Let the rice cool. Set aside.
Make the Pesto: In the base of a food processor, pulse together the sundried tomatoes, pine nuts, olive oil, salt and garlic cloves until it is almost smooth. Add the parmesan and basil, pulse to just to incorporate. Set aside.
Make the Rolls: Place a sushi mat on a cutting board, with the slats running horizontally. Lay a piece of nori down. With wet hands, spread about ¾ cup of rice over the surface of the nori, leaving about ½ inch uncovered at the farthest edge. Lay 2 slices of turkey. Horizontally down the middle of the rice and turkey, add row of goat cheese (1 ounce), arugula leaves, 2 Tablespoons sundried tomato pesto and a sprinkle of crushed bbq potato chips.
Begin rolling the with the closest edge. Roll over the filling, using the mat to press down on the sushi roll firmly, but gently, as you roll. Place the seem-side down on the cutting board. Continue until all rolls have been formed. Carefully slice in half, then each section into thirds.
Recipe created by Parties That Cook®
Serves/Makes
Serves 8