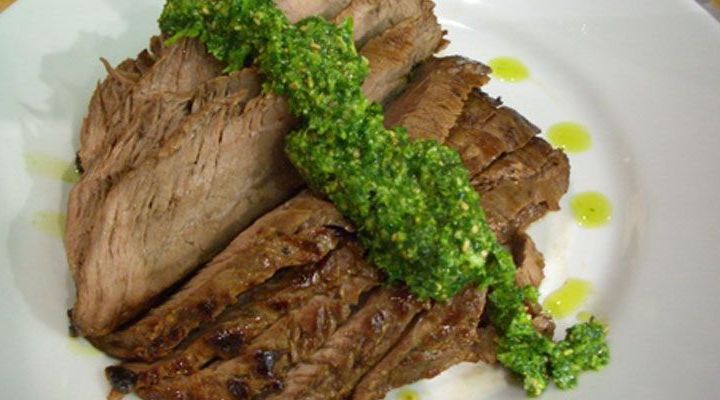 Soy-Marinated Flank Steak with Cilantro Sesame Pesto Recipe
Ingredients
Steak Marinade:
2 two-pound flank steaks (can substitute skirt steak)
2 cups soy sauce
1 clove garlic, smashed
1 Tablespoon ginger, minced
1 Tablespoon brown sugar
1 teaspoon canola oil
Cilantro-Scallion Pesto:
3/4 teaspoon kosher salt
3 scallions (light green parts only), roughly chopped
1/2 bunch cilantro leaves
1/2 bunch flat-leaf parsley
1/3 cup extra-virgin olive oil
1 teaspoon toasted sesame oil
2 Tablespoons pine nuts, toasted
1 Tablespoon sesame seeds, toasted
1 clove garlic, peeled and smashed
Methods/Steps
Heat oven to 400°F.
Steak: Trim the silver skin and excess fat from the flank steak. Score the meat with the tip of the knife on each side of the meat. Mix together all the marinade ingredients. Set the steaks in a large, glass or ceramic baking dish. Pour the marinade over the steaks and rub into the steaks. Cover the baking dish with plastic wrap and refrigerate the steak for at least 4 hours or overnight. Let the steak return to room temperature before grilling. (Alternatively, marinate in an instant marinator).
Pesto: Place all the pesto ingredients except the sesame seeds into the bowl of a food processor. Process until smooth. Stir in the sesame seeds and adjust seasoning if necessary.
Grill the Meat: Remove the steaks from the marinade and scrape off most of the marinade. Heat a ridged grill sauté pan or an outdoor grill over high heat. Brush the grill with a bit of canola oil; then sear the flank steaks on both sides until golden brown in color. Transfer the browned steaks to a sheet pan, and finish cooking in the oven to desired doneness, about 10-15 minutes. (For rare meat, cook steak to 125ºF, for medium- rare to 135-140ºF.) Slice and serve with the pesto.
Recipe created by Parties That Cook®
Serves/Makes
Serves 10