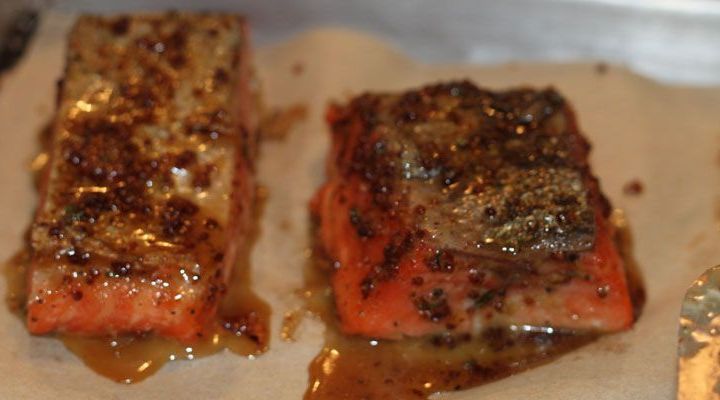 Spice-Crusted Salmon with Harissa Yogurt Sauce Recipe
Ingredients
Harissa-Yogurt Sauce:
1/2 teaspoon lime zest
1/4 teaspoon lemon zest
1/2 teaspoon orange zest
2 Tablespoons fresh lime juice
1 Tablespoon fresh lemon juice
1/4 cup fresh orange juice
1/2 cup kafir cheese or strained sheep's milk yogurt
1/2 cup crème fraîche
1/4 cup milk
2 Tablespoons cilantro, chopped finely
1 1/2 teaspoons harissa
1/2 teaspoon kosher salt
Herb Salad:
3/4 cup flat leaf parsley leaves
1/2 cup fresh cilantro leaves
1/2 cup basil leaves, torn if half if leaves are large
1/4 cup fresh mint leaves
2 cups baby arugula
1 1/2 Tablespoons extra-virgin olive oil
1 Tablespoon fresh lemon juice
1 small clove garlic, peeled and minced
Large pinch of kosher salt and fresh black pepper to taste
Salmon Filets:
3 Tablespoons whole cumin seeds
2 Tablespoons whole coriander seeds
1/4 cup whole fennel seeds
1 1/2 Tablespoons kosher salt
1 teaspoon freshly ground black pepper
4 pounds fresh salmon filet, skin removed, de-boned and cut into 7-8 oz. filets
1 Tablespoon canola oil
Methods/Steps
Preheat oven to 400°F.
Sauce: In a small saucepan over high heat, combine lime zest, lemon zest, and the orange zest with lime, lemon, and orange juices. Bring to a boil and reduce until thick and syrupy, making about 1 tablespoon. Remove from heat and cool.
In a medium bowl, combine the citrus syrup, the kafir cheese, crème fraîche, chopped cilantro, harissa and kosher salt.
Herb Salad: Pick all the herb leaves and put into a medium bowl. In another bowl, whisk together the olive oil, lemon juice, garlic, salt and pepper to taste. Five minutes before ready to serve, add half of the dressing and toss gently to coat. Add more as needed—the herb leaves should be coated and shiny but not drenched.
Salmon: In a spice grinder or using a mortar and pestle, grind the cumin, coriander and fennel seeds until the seeds are broken but not too fine or powdery. Transfer the seeds to a small sheet pan and toss with the salt and pepper. Dip skinned side of the salmon into the spice mixture to coat heavily. Repeat with all the salmon filets.
Sear the Salmon: Heat oil in a large sauté pan over medium-high heat. Do not add too much oil or it will cause the crust to fall off. Place salmon filets, spice-side down, into the pan. Cook until the spices are dry, golden brown and toasted, about 3 minutes. Gently transfer the salmon, crust side up, onto a sheet pan. Repeat with the rest of the filets. Roast the salmon in the oven for 4-6 minutes or until the salmon is just cooked through. Remove from the oven.
Additional Tips
To serve: Serve immediately garnished with a dollop of harissa yogurt sauce and the herb salad on the side.
Recipe created by Parties That Cook®
Serves/Makes
Serves 8