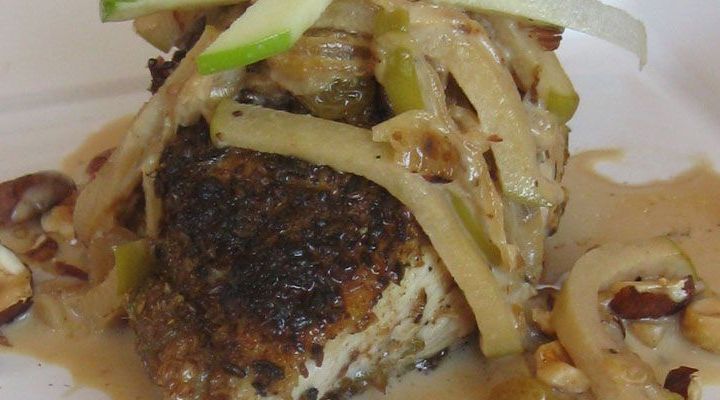 Spiced Chicken Breast with Cucumber, Lemon, and Tomato Raita Recipe
Ingredients
Brine:
2 quarts water
1/2 cup kosher salt
1/2 cup sugar
1 bay leaf
1 teaspoon black peppercorn, coarsely smashed
8 6-ounce boneless chicken half breasts
Spice Sauce:
1 stick (4 ounces) unsalted butter, cut into Tablespoons
2 teaspoons ground cumin
2 teaspoons ground cinnamon
2 teaspoons sugar
1 teaspoon ground coriander
1/2 teaspoon ground cardamom
1/2 teaspoon turmeric
1/4 teaspoon kosher salt
1/4 teaspoon ground cloves
1/4 teaspoon cayenne pepper
Cucumber and Lemon Raita:
1 small garlic clove, minced
1 teaspoon kosher salt
1 cup plain whole-milk yogurt
1/4 cup sour cream
1 medium cucumber, peeled, halved, seeded and chopped
1 tomato, seeded and chopped
1/4 cup chopped mint leaves
1/2 teaspoon cumin seeds, lightly toasted and chopped
1/8 teaspoon freshly ground pepper
1 teaspoon lemon zest
Half lemon, freshly squeezed
Methods/Steps
Preheat Oven to 400ºF.
Brine: Mix water, salt, sugar, bay leaf, and black peppercorns. Immerse the chicken in the brine and refrigerate for 1/2 hour-1 hour. Remove from the brine and pat dry.
Prepare Spice Sauce: In a small saucepan, melt the butter over moderately low heat. Stir in the ground cumin, cinnamon, sugar, coriander, cardamom, turmeric, salt, cloves and cayenne and cook over low heat, stirring until fragrant, about 3 minutes. Pour half into a bowl and set aside. Reserve the rest for to use as sauce later.
Prepare Raita: In a medium bowl, mash the garlic with the kosher salt, into a paste. Add the yogurt, sour cream, cucumber, tomato, mint, toasted cumin, pepper, lemon zest and juice. Set aside until ready to serve.
Sear-Roast Chicken: Brush half of the spice rub over the chicken breasts, evenly distributed. Heat a ridged grill sauté pan or an outdoor grill over high heat. Brush the grill with some canola oil; grill the chicken on both sides until brown in color, about 3-5 minutes. (Do not crowd the pan). Transfer the breasts to a baking sheet. Finish browning the remaining chicken breasts in the same manner. When all have been browned, transfer the baking sheet to the preheated oven and bake until a knife inserted in the center encounters no resistance or an instant-read thermometer reads 150°F, about 10-15 minutes.
Serve Chicken: Serve the chicken and drizzle with a little sauce. Spoon a little raita on the side.
Recipe created by Parties That Cook®
Serves/Makes
Serves 8