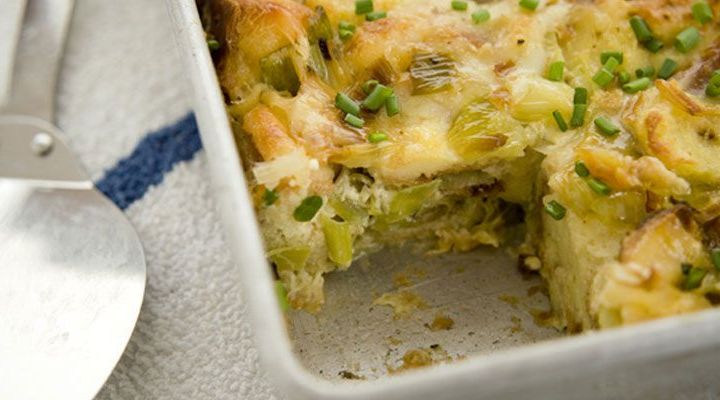 Spring Asparagus Strata with Leeks, Green Garlic and Fontina Recipe
Ingredients
1 pound French bread, crusts removed, cut into 1-inch cubes
1 Tablespoon unsalted butter
1/2 medium yellow onion, minced (about ½ cup)
1 spring leek, cleaned and chopped
2 clove garlic, minced (or 2 green garlic stalks, white part minced)
1 bunch asparagus, tough stems removed, cut into 1 inch pieces
10-ounces spinach, wilted in a dry pan, squeezed to remove water and coarsely chopped
3/4 cup medium-dry white wine, such as Sauvignon Blanc
6 large eggs
2 cups heavy cream
8 ounces Fontina cheese, grated (about 1 1/2 cups grated)
2 teaspoons fresh thyme
2 Tablespoons parsley, chopped
½ teaspoon lemon zest
1 teaspoon lemon juice
2 ¼ teaspoons kosher salt
Cooking spray
Methods/Steps
Dry Bread: Heat oven to 375ºF. Arrange bread cubes in a single layer on a sheet pan and bake until dry and stale-feeling, about 5-10 minutes. (Alternatively, leave slices out overnight to dry.) Set aside.
Sauté Vegetables: Melt butter in medium skillet over medium heat. Sauté minced onions and leek until translucent, about 5 minutes. Add garlic, asparagus, wilted spinach, and wine. Cook, stirring occasionally, about 3-5 minutes. Transfer to medium bowl; set aside.

Assemble: Whisk eggs in a large bowl until combined; whisk in heavy cream, half of the Fontina cheese, sautéed vegetables, thyme, parsley, lemon zest and juice and salt. Add bread. Combine then let sit for 5 minutes so the liquid can be absorbed.
Bake: Spray a 9x13 baking dish with cooking spray (or 8 ramekins). Spoon bread mixture into the pan; sprinkle remaining cheese over surface. Bake until both edges and center are puffed and slightly golden, about 25-30 minutes. Cool slightly; serve.
Makes a great main course for breakfast, or a side dish for any other meal!
Recipe created by Parties That Cook®
Serves/Makes
Serves 12