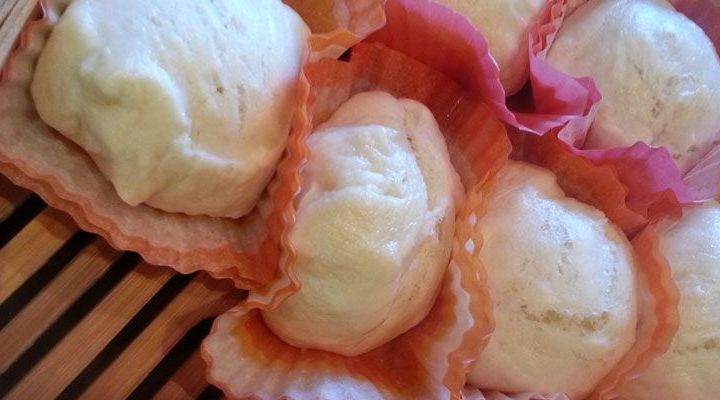 Steamed Coconut Buns with Hoisin BBQ Pork and Pickled Carrot Slaw
Ingredients
Pickled Vegetables:
1/2 cup unseasoned rice vinegar
1/4 cup sugar
1 cup warm water
1 teaspoon coarse kosher salt
2 cups carrots (about 1 ½ large carrots), peeled and coarsely grated
2 cups daikon (about half a large radish), peeled and coarsely grated
Hoisin BBQ Pork:
2 pork tenderloins, trimmed of fat and silver skin
1 Tablespoon canola oil
1 1/2 teaspoons kosher salt
1 teaspoon Sichuan peppercorn, ground
1/4 cup honey
1/3 cup soy sauce
1/3 cup hoisin
Buns:
1 1/2 cups coconut milk
3 cups + 3 Tablespoons all-purpose flour
1 1/2 Tablespoons baking powder
2 teaspoons kosher salt
Nonstick cooking spray
1 bunch cilantro, tough ends removed, for garnish

Bamboo steamer and cupcake liners
Methods/Steps
Preheat oven to 400ºF.
Prepare Vegetables: Place all of the ingredients into a small bowl and let sit for 30 minutes to an hour. Stir occasionally.
Prepare Pork: Remove any silver skin from tenderloins. Rub tenderloins with oil and evenly season with salt and Sichuan peppercorn. In a small bowl, combine the honey, soy sauce, and hoisin, whisk until combined. Set aside.
Grill Pork: Preheat a ridged grill pan. When hot, grill tenderloins until charred and browned on all sides, about 10 minutes. The tenderloin will still be undercooked. Transfer to a parchment lined sheet pan and lightly coat with some of the BBQ hoisin sauce (reserve some sauce for garnish). Finish cooking in the oven for about 15 minutes or until a thermometer inserted into the center registers 145ºF. Remove tenderloins from oven and let rest until ready to serve.
Make Dough: Pour the coconut milk, flour, baking powder and salt into the bowl of a food processor. Pulse the dough until it forms a ball. The dough will be slightly wet. If the dough is too wet to form a ball, add one or two more tablespoons of flour, one at a time, until a ball starts to form, do not over mix.
Form Buns: Lightly spray the cupcake liners with nonstick spray. Turn the dough out onto a lightly floured surface. With your hands, shape the dough into a 1 1/2 foot long roll. Cut the roll in half right down the center and reshape if necessary. Cut each half into 12 equal pieces and gently place the piece of dough into each liner.
Steam Buns: Place the buns into bamboo steamer basket(s) or any type of steamer you may have. Medium sized bamboo baskets will hold 10 buns. Add a few inches of water to the pan as needed to steam (don't let water touch the buns). Once water is boiling, steam buns for 10-12 minutes or until firm. Repeat until all buns are steamed.
Serve: Slice the pork into thin slices. Slice each bun almost in half and wedge a slice of pork, some BBQ sauce, a few cilantro springs and some pickled vegetables. Place onto a platter and serve warm.
Recipe created by Parties That Cook®
Serves/Makes
Makes 24 Mini Buns