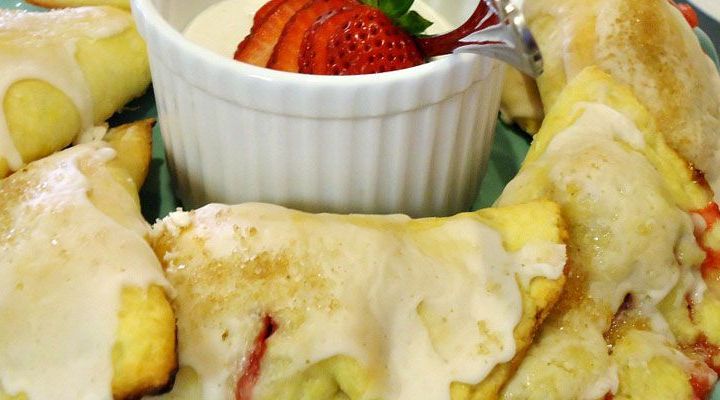 Strawberry Rhubarb Empanadas with Brown Sugar Whipped Crème Fraiche Recipe
Ingredients
Dough:
3 cups AP flour + more for bench flour
2 teaspoons baking powder
1 teaspoon salt
1/2 cup unsalted butter, cold
2 eggs
1/2 cup milk
1/4 cup granulated sugar
Filling:
20 medium strawberries, about 2 pints
4 cups rhubarb, about 1 pound untrimmed
1 cup granulated sugar
2 Tablespoons AP flour
1/2 teaspoon kosher salt
1 Tablespoon butter, cut into 20 tiny pieces
1/4 cup demerara or coarse sugar
1/2 cup heavy cream
Glaze:
2 cups powdered sugar
3-4 Tablespoons milk
1/2 teaspoon vanilla extract
1/4 teaspoon kosher salt
1/4 cup demerara or coarse sugar
Crème Fraiche:
1 1/2 cups crème fraiche (can substitute sour cream with 2 Tablespoons heavy cream added)
3 Tablespoons brown sugar
1/4 teaspoon kosher salt
Mint for garnish (If desired)
Methods/Steps
Mix Dry Ingredients: Preheat oven to 425 degrees. In the bowl of a food processor fitted with the steel blade, pulse the flour, baking powder and salt just until combined. Cut the butter into pieces then add into the processor. Pulse until the butter is well distributed into the flour (it almost disappears).
Add Wet Ingredients: Add the eggs, milk and sugar into dough. Run processor until a nice ball of dough forms around the blade. You don't have to worry about over mixing but do stop mixing when the dough ball forms. Split the dough in half, wrap in plastic wrap and pat down into a flat disc. Place in refrigerator for about 20 minutes (or freezer for 10 minutes).
Strawberries: Hull the strawberries and cut them in half. Set aside until ready to use.
Chop Rhubarb: Cut the ends off of the rhubarb and peel away any long fibers that want to come off. Chop the rhubarb stalks into 1/4 inch pieces, measure out proper amount and place into a bowl. Stir in the sugar, flour and salt and mix until all of the sugar and flour starts to stick to the rhubarb to make a glossy mass.
Shape Dough: Lightly dust the work surface with some bench flour. Roll each piece of dough out to about a 1/8" thickness. Using a 4 inch round cutter, cut out dough rounds. Re Roll dough and cut as many rounds as possible. As soon as you have a few dough rounds, start someone on the next step and fill empanadas.
Fill Empanadas: Place a tablespoon of chopped rhubarb into middle of dough. Place a tiny piece of butter on top, then finish with one or two strawberry halves (depending on size, it should just cover filling). Sprinkle the strawberries with a scant 1/4 teaspoon of demerara sugar. Place a small bowl of water nearby and dip a finger into the water then run finger around half of the dough round. Fold over the dough, press out any air, then seal the dough with the tines of a fork or make a braid with your fingertips.
Bake Empanadas: Place empanadas onto a parchment lined sheet pan. Prick a tiny hole on the tops with a knife then brush the empanadas with heavy cream. Bake for 20 minutes or until golden. Remove or loosen empanadas from parchment to avoid sticking once any run off filling cools.
Make Glaze: Mix all ingredients together until smooth.
Glaze Empanadas: As soon as the empanadas come out of the oven and are removed from any sticky parchment, use a spoon and liberally glaze the empanadas. The glaze will ooze over entire empanada. Sprinkle the tops with some of the demerara sugar.
Whip Crème Fraiche: Place all ingredients into a bowl. Whisk until mixture resembles whipped cream.
Serve: Serve empanadas with a dollop of crème fraiche and a sprig of mint if desired.
Alternatively, place empanadas onto a platter with a bowl of whipped crème fraiche on the side. Empanadas are best warm.
Recipe created by Parties That Cook®
Serves/Makes
Makes 20 empanadas