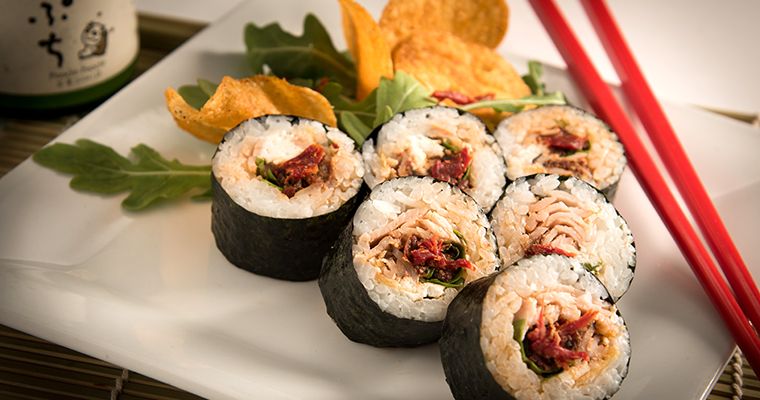 Sushi Showdown
The Ultimate Sushi Making Competition
Are you looking for a way to have fun with your team but are too busy to leave the office? Or want to host at a private residence? Our Sushi Showdown is the perfect solution for all occasions and spaces where open-flame cooking is not allowed. We just need an accessible sink for washing dishes and an outlet for our rice cooker!
In this technique-driven Chopped-like team building activity, guests are divided into small teams and face off in a timed sushi battle. After enjoying our complimentary antipasto platter and a beverage of your choice, guests will put on their aprons and best game faces as the group is divided into teams.
With our professional chefs as culinary mentors, each team strategizes together to prepare their sushi recipe with their own creative spin! We'll provide a pantry of secret ingredients for inspiration.
Creativity, delegation and effective communication within each team are critical for the win. Members of the team that rolls the best sushi platter win prizes based on presentation, teamwork, and taste.
Pricing & Services
Prices for our Sushi Showdown experience vary based on guest count, event format and venue rental fees. We do charge a set-up fee for in-office or private home events. Prices are based on a minimum of 15 guests; however, we can accommodate groups smaller than 15. We create a customized proposal(s) for your group. Cost is all-inclusive of professionally trained staff, ingredients, venue fee, party rentals, travel fee (if applicable), non-alcoholic beverages, service fee, and prizes.
Our event sales team stands by ready to give you all the details including a customized proposal for your event. Ask us about event enhancements including optional appetizer upgrades, custom logo aprons, wine education sessions, meeting facilities, specialty rentals and more.
Our proposals are all-inclusive except for wine and beer – there are no hidden fees!