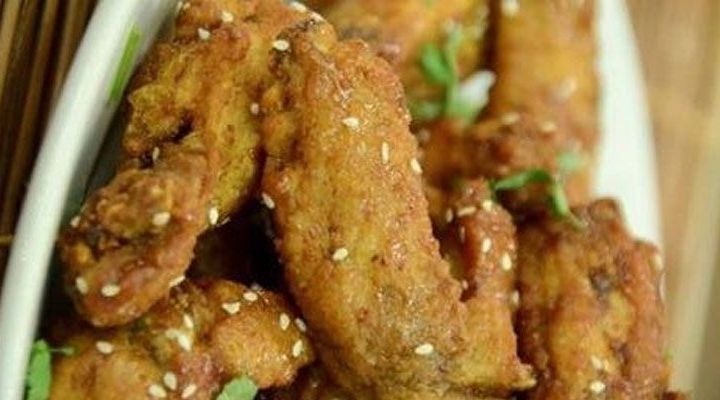 Sweet and Sour Korean Fried Chicken Wings Recipe
Ingredients
Soy Ginger Glaze:
1 cup water
1 cup ginger, thinly sliced
3 Tablespoons soy sauce
1/2 cup brown sugar
1/4 cup rice vinegar
2 Tablespoons honey
1 Tablespoon Sriracha
Chicken Wings:
1 cup Wondra flour
1 teaspoon kosher salt
1/4 teaspoon black pepper, ground
3 pounds chicken wings and drummettes (washed and patted dry)

1/2 bunch cilantro, chopped
1 Tablespoon sesame seeds, toasted
Methods/Steps
Make Glaze: In a small saucepan, add the water, ginger, soy sauce, brown sugar, and vinegar. Bring to boil. Then add the honey and Sriracha. Reduce heat and simmer until reduced by half. It will be a thick maple syrup-like consistency. Remove ginger and discard. Set glaze aside.

Heat Oil: Heat the canola oil in a large frying pan to 350°F.

Coat Chicken Wings: Place the Wondra, salt and pepper into a large bowl. Dredge the chicken pieces in the flour mixture to get a fine light coat.

Fry Wings: Working in small batches with a spider or skimmer, gently lower the wings into the hot oil. Do not overcrowd and adjust heat to ensure temperature remains at 350°F. Fry for 5 minutes. Transfer wings to a cooling rack placed on top of a sheet pan to drain and allow to cool. Keep the wings in a single layer so you know which ones were fried first and thus, cooled earlier.

RE-FRY Wings: Ensure the temperature of the oil is still at 350°F. Starting with the wings that came out of the fryer first, re-fry the wings until crispy golden brown, about another 5 minutes. Drain again and repeat until all of the wings have been double fried.

Glaze Wings: In a big bowl, toss wings with glaze to evenly coat. Then toss in cilantro and sesame seeds. Transfer to serving platter.
Recipe created by Parties That Cook®
Serves/Makes
Serves 24