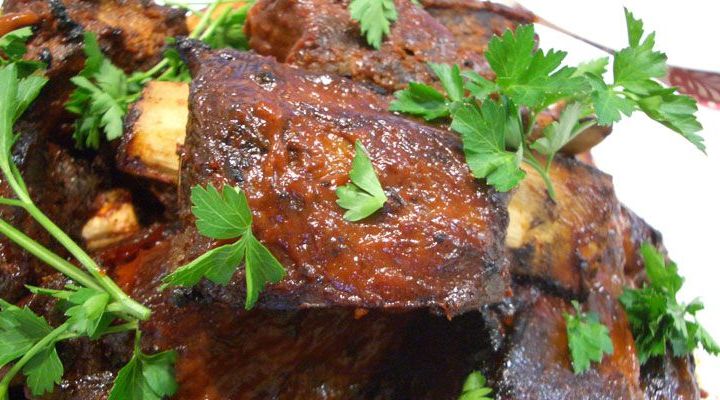 Sweet and Spicy Braised Short Ribs Recipe
Ingredients
Ribs:
1 Tablespoon canola oil
1 Tablespoon butter
2 onions peeled and cut into circles
1/2 cup flour
1 teaspoon kosher salt
1 teaspoon ground black pepper
5 pounds of beef short ribs
Sauce:
3/4 cup ketchup
3/4 cup water
2 Tablespoons white wine vinegar
1/4 cup soy sauce
1/2 cup brown sugar
2 Tablespoons Worcestershire sauce
1 chipotle in adobo, seeded and diced, plus 1 Tablespoon adobo sauce
1/2 cup demi-glace
1 teaspoon kosher salt
Methods/Steps
Heat oven to 300°F.
Ribs: Heat canola and butter in a large sauté pan over medium heat. Add the onions and cook until soft and starting to caramelize, about 15 minutes. Transfer onions to a bowl and reserve cooking pan.
Mix together flour, salt and pepper in a medium bowl. Dip beef short ribs in the flour mixture and shake off any excess. Reheat the reserved onion sauté pan over medium heat (adding more oil if the pan is really dry). Sear the ribs on all sides until golden brown. Transfer short ribs to a roasting pan as they are done. Sprinkle cooked onions over ribs.
Sauce: In a small saucepan over medium heat, add ketchup, water, white wine vinegar, soy sauce, brown sugar, Worcestershire, chipotles and adobo, demi-glace and kosher salt. Whisk while cooking over medium heat until the sugar is dissolved. Pour sauce over the rib/onion mixture in the roasting pan. Cover the ribs tightly with parchment then cover the pan with foil. Cook at 300 for 4 to 4 1/2 hours until the meat is literally falling off the bone. Remove the meat from the sauce and let the sauce chill so that the fat congeals (will take a few hours). Remove the fat from the sauce using a skimmer. Pour the sauce over the ribs and reheat the ribs at 200 ºF for 30 minutes. Serve over mashed potatoes or buttered pappardelle.
Recipe created by Parties That Cook®
Serves/Makes
Serves 6