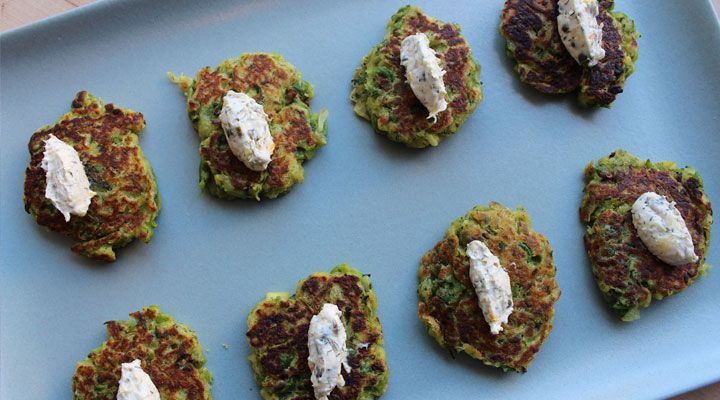 Sweet Pea and Leek Pancakes with Meyer Lemon Topping
Ingredients

Pancakes
1 cup frozen peas, thawed
3 leeks, washed, quartered lengthwise and thinly sliced
2 shallots, small dice
½ bunch parsley, finely chopped
1 teaspoon dried coriander
¼ teaspoon turmeric
1 teaspoon dried dill
1 teaspoon kosher salt, plus more for the finished pancake
½ cup AP flour
2 teaspoons baking powder
1 egg
⅓ cup milk, room temperature
½ teaspoon kosher salt
3 Tablespoons butter, melted
Olive oil
Methods/Steps
Make the Pancakes: In a large, nonstick pan. Add about 3 Tablespoons olive oil and heat over medium heat. Add the leeks and the shallots, cooking for about 10 minutes or until soft. Add the peas, parsley, coriander, turmeric, dill and salt. Cook for another 5-7 minutes, gently mashing the peas with a wooden spoon or rubber spatula. Remove from the heat, and set aside. In a mixing bowl, add the flour, baking powder, egg(s), milk, salt and melted butter. Whisk together to make a batter, then fold in the pea mixture.
Wipe the pea pan with a paper towel, and add 3 Tablespoons of olive oil over medium heat. Add 2 heaping Tablespoons of batter to form one pancake, about 5-6 pancakes per batch. Cook for 3-4 minutes on onside, flip, and continue to cook for another 2-3 minutes. Remove from the pan, and put on a cooling rack. Continue until all the batter has been used.
Meyer Lemon Topping
1 meyer lemon, zested, seeded and segmented
4 ounces cream cheese, softened
½ teaspoon kosher salt
¼ teaspoon black pepper
2 Tablespoons capers
1 teaspoon dried dill
Make the Topping: Over a mixing bowl, zest the meyer lemon(s). Using a small knife remove the top and bottom of the lemon on your cutting board. Follow along the pith line, separating the flesh of the lemon from the white pith. While holding the lemon, divide between the segments removing the flesh of the lemon from the membranes holding it together. Remove the seeds, and add the segments of lemon to the zest. Add the cream cheese, salt, pepper, capers and dill, and carefully blend together using a hand mixer. Dollop some of the topping on each pancake, and serve on a platter.
Recipe created by Parties That Cook®
Serves/Makes
Makes 24