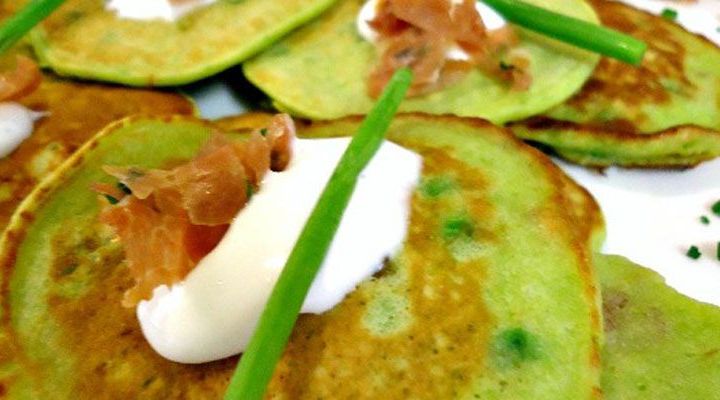 Sweet Pea and Mint Galettes with Prosciutto and Sour Cream Recipe
Ingredients
Galettes:
10 slices prosciutto
1 1/2 cups all-purpose flour
3/4 teaspoon baking powder
2 cups frozen peas, divided in half
3/4 cup heavy cream
1 1/4 cups milk
3 Tablespoons unsalted butter, melted
1 teaspoon lemon zest
1 Tablespoon mint leaves
2 1/2 teaspoons kosher salt
3 large eggs, room temperature
1 1/2 teaspoons lemon juice

Canola oil or nonstick spray for cooking galettes
Garnish:
1/2 cup sour cream
1/4 teaspoon kosher salt
1/4 teaspoon lemon juice
Reserved ½ inch pieces of proscuitto
Methods/Steps
Preheat oven to 400ºF.
Cook Prosciutto: Lay prosciutto onto a sheet pan. Place pan in the oven and cook until crisp, about 12 minutes. Let cool. Once cool, chop half the prosciutto into small 1/4-inch bits and transfer to small bowl – will use later for batter. Chop or break the remaining pieces into larger pieces, about 1/2 inch bits and place in small bowl, cover with plastic and set aside to use as garnish.
Mix Dry Ingredients: In a large bowl, mix together flour and baking powder; set aside.
Blend Wet Ingredients: Put half of the peas into a blender. Add the cream, milk, melted butter, lemon zest, mint leaves and salt; blend for 20 seconds. Add eggs, and blend a few seconds more, just until they are fully combined.
Combine Ingredients: Pour pea mixture into flour mixture, add the remaining whole peas and reserved ¼-inch prosciutto pieces, fold to mix. Add the lemon juice. Helpful tip: Do not over mix or the galettes will be tough.
Cook Galettes: Pour 1 tablespoon of canola oil into non-stick pan or spray with nonstick spray. Working in batches, drop a Tablespoon of batter into pan, being careful not to overcrowd. Cook until underside is golden, about 2 minutes. Turn pancakes over and cook until other side is golden and pancake is cooked through, about two minutes more. Transfer to a cooling rack over a sheet pan. Repeat with remaining batter, adding more canola oil as needed between batches.
Mix Garnish: Combine sour cream, salt, and lemon juice.
Serve: If necessary quickly re-warm pancakes in the oven. Remove from oven and top each pancake with a dollop of sour cream and a piece of proscuitto that was reserved for garnish. Transfer pancakes to a serving platter. Serve immediately.
Recipe created by Parties That Cook®
Serves/Makes
Makes 30-35 2-inch Galettes