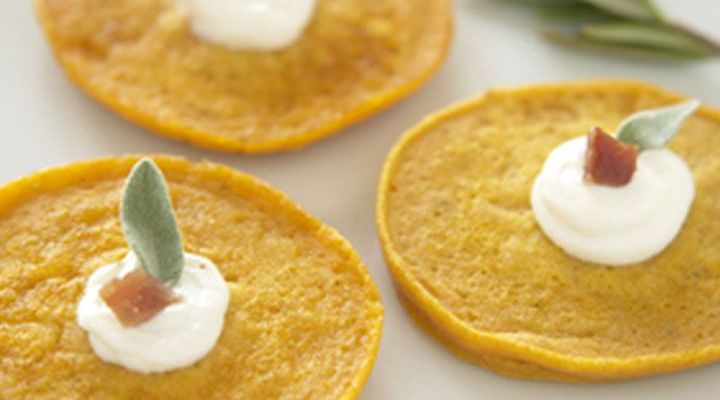 Sweet Potato and Bacon Galettes with Sage Creme Fraiche Recipe
Ingredients
Pancakes:
5 slices bacon
1 large sweet potato (Jewel is best) to yield 1 1/2 cups of cooked pulp
1 1/2 cups all-purpose flour
3/4 teaspoon baking powder
3/4 cup heavy cream
1 1/4 cups milk
3 Tablespoons unsalted butter, melted
1 teaspoon sage leaves, chopped
1 teaspoon rosemary needles, chopped
2 teaspoons kosher salt
3 large eggs, room temperature
1 1/2 teaspoons lemon juice
Canola oil
Garnish:
1/2 cup crème fraîche
1/4 teaspoon kosher salt
Baby sage leaves
Methods/Steps
Preheat oven to 400°F.
Cook Bacon: Put bacon on a cooling rack over a sheet pan. Transfer to oven and cook until crisp, about 12 minutes. Let cool on cooling rack. Once cool, chop 3 pieces into small 1/4-inch bits and transfer to small bowl – will use later for batter. Chop remaining 2 pieces into 1/2-inch bits and place in small bowl to be used for garnish. Set aside.
Cook Sweet Potatoes: Using a fork, poke holes in sweet potato. Bake in oven until a knife inserted into potato encounters no resistance, about 35-40 minutes. Cool potato slightly, cut in half and scoop flesh from shell. Measure out 1 1/4 cups of pulp. Set rest aside for another use.
Make Batter: In medium bowl, mix together flour and baking powder; set aside. Place cooked sweet potato in jar of blender. Add cream, milk, melted butter, sage, rosemary and salt; blend for 20 seconds. Add eggs, and process a few seconds more until fully combined. Pour sweet potato mixture into flour mixture; fold to mix. Add lemon juice and 3 pieces of chopped bacon and mix. Do not over mix or the pancakes will be tough. If too thick, add a little more milk.
Cook Pancakes: Pour 1 Tablespoon of canola oil into non-stick pan. Spread around pan with paper towel. Working in batches, drop a heaping Tablespoon of batter into pan, being careful not to overcrowd. Cook until underside is golden, about 2 minutes. Turn pancakes over and cook until other side is golden and pancake is cooked through, about two minutes more. Transfer to a cooling rack over a sheet pan. Repeat with remaining batter, adding more canola oil as needed between batches.
Make Crème Fraîche: Combine crème fraîche and salt.
Serve: Put pancakes on serving platter. Top each pancake with dollop of crème fraîche and piece of bacon that was reserved for garnish. Add a baby sage leaf and serve immediately.
Additional Notes
Note: You can substitute Butternut Squash for Sweet Potato!
Recipe created by Parties That Cook®
Serves/Makes
Serves 24