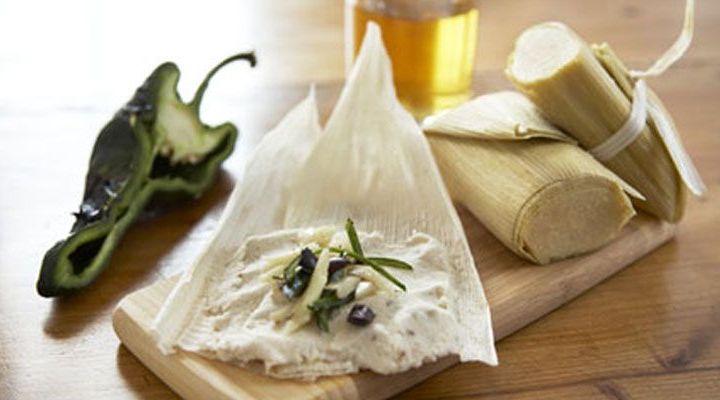 Tamales Filled with Black Beans and Jack Cheese
Ingredients
Husks:
2 ounces corn husk (about 24)
Masa:
3 ½ cups dried masa harina, mixed with 2 ¼ cups hot water
10 ounces solid vegetable shortening
1 Tablespoon kosher salt
1 ½ teaspoon baking powder
2 cups vegetable stock
Filling:
4 Anaheim chilies, roasted, peeled, seeded, and diced
2 cups black bean, cooked and drained
2 teaspoons cumin seeds, toasted and ground
2 teaspoon kosher salt
Pinch of freshly ground pepper, to taste
8 ounces Monterrey Jack cheese, grated
Methods/Steps
Prepare Husks: Place husks into a bowl of very hot water and let soak for at least 20 minutes, or until the husk become somewhat translucent. Separate leaves and place back into the water until tender and pliable. Rinse each husk and check to remove any corn silk. Stand husks upright in colander to drain before applying the masa.
Make Masa: Mix dry harina masa with hot water until it forms a thick paste (like a dough ball). Put shortening, salt and baking powder in a food processor and pulse until fluffy. Add 1/3 of the masa mixture and pulse to combine. Repeat with the next two thirds, in two separate batches. Scrape down the sides then process. Add the vegetable stock, in a slow stream.
Make Filling: Roast the chilies over an open flame until blackened. Transfer to a bowl and cover with plastic to let steam for 3 minutes. Peel off the charred outer skin and remove the stem and seeds. Dice into small cubes. Combine beans and cumin, salt and pepper. Mash slightly. Grate the cheese.
Assemble Tamales: Spread each corn husk flat on a cutting board, with the pointed end away from you. With a small spoon, spread 1-2 Tablespoons of masa over the bottom 2/3 of the husk. Place 1 Tablespoon of the filling in the center and fold the sides over to cover the filling. Fold over the top half (pointed end) of the husk to seal. Use ribbon of the husk to tie up the tamale or just place the folded side down in a steamer. Repeat the process with remaining husks.
Steam Tamales: Steam tamales in steamer basket for 20 minutes, or until the masa easily pulls away from the husk.
Serve: Let cool for 5 minutes and arrange on a serving platter.
Recipe created by Parties That Cook®
Serves/Makes
Makes 24 Tamales