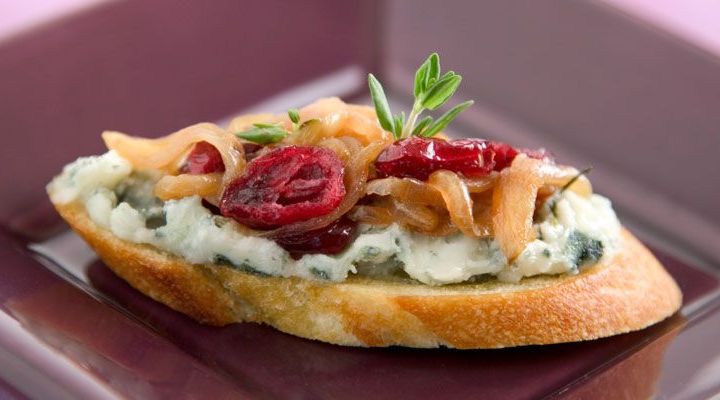 Tartines of Blue Cheese and Shallot Cranberry Confit Recipe
Ingredients
Shallot-Cranberry Confit:
2 Tablespoons unsalted butter
4 shallots, halved and thinly sliced
1 medium yellow onion, halved and thinly sliced
1/2 cup dried cranberries, coarsely chopped
1 teaspoon fresh thyme leaves
2 teaspoons sugar
2 Tablespoons sherry vinegar
1 teaspoon lemon juice
1/4 cup warm water
1/2 teaspoon kosher salt
1/8 teaspoon freshly ground black pepper
Tartines:
1 French baguette, cut in 1/2-inch thick diagonal slices
1/4 cup extra virgin olive oil
2/3 cup (5 ounces) blue cheese, softened
1 teaspoon fresh thyme leaves
Methods/Steps
Preheat oven to 350 F.
Make Confit: Melt butter in a medium sauté pan over medium heat. Add shallots, onions, cranberries and thyme. Cover and cook until shallots and onions are soft and beginning to caramelize, about 10 minutes. Stir in sugar. Continue to cook, covered, until shallots and onions have caramelized, about 10 more minutes. Add vinegar, lemon juice, warm water, salt and pepper. Cook, uncovered, stirring occasionally, until liquid has evaporated and mixture is golden brown (you may need to add more water to prevent onions from burning).
Bake Crostini: Brush the bread slices on one side with olive oil. Arrange the slices on a sheet pan and cook until the slices are golden around the edges and crisp, about 10-15 minutes.
Assembly: Spread 2 teaspoons of blue cheese over each baguette slice. Top each one with about 1 Tablespoon shallot-cranberry confit. Garnish with thyme leaves. Serve immediately.
Recipe created by Parties That Cook®
Serves/Makes
Makes 24