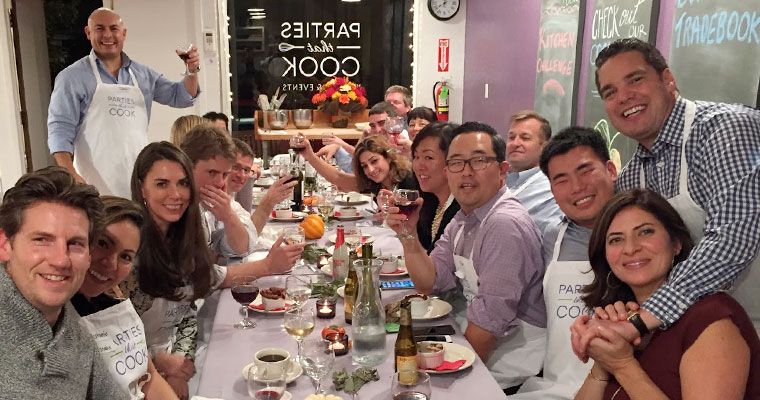 Chef's Table
Seated Dining Experience
A 3-hour event, the Chef's Table is perfect for more formal gatherings and team celebrations when you want to encourage team bonding over a seated meal.
Head into the kitchen with your co-workers, clients, and friends and partake in an interactive cooking demonstration, filled with fun cooking tips and tricks. Once everyone is excited and ready to cook, we'll divide the group into teams to prepare the recipes from your selected Chef's Table menu. Our professional chefs provide hands-on instruction and support as your team works together to create their elegant four-course meal. At the end of the cooking hour, the group sits down to enjoy the fruits of their labor.
The Chef's Table menus feature themes to reflect current and classic culinary trends, and are inspired by seasonal ingredients. Your only challenge is deciding which Chef's Table menu to choose!
Pricing & Services
Prices for our Chef's Table experience vary based on guest count, event format and venue rental fees. Prices are based on a minimum of 20 guests. We create a customized proposal(s) for your group. Cost is all-inclusive of professionally trained staff, ingredients, venue fee, party rentals, travel fee (if applicable), non-alcoholic beverages, and service fee.
For groups with fewer than 18 guests, we can offer the Chef's Table Family-Style option, a 2 1/2 hour experience which features a 3-course menu served family-style at the table. It is less expensive than the standard Chef's Table.
Our event sales team stands by ready to give you all the details including a customized proposal for your event. Ask us about event enhancements including optional appetizer and protein upgrades, custom logo aprons, wine education sessions, meeting facilities, specialty rentals and more.
Our proposals are all-inclusive except for wine and beer – there are no hidden fees!