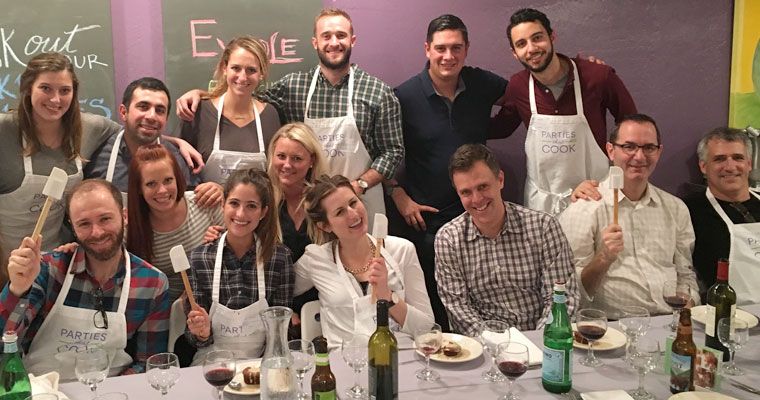 Kitchen Challenge
An Iron Chef-style Group Cooking Competition
If the company picnic isn't cutting it, you are in the right place. Trade the typical ho-hum team building activity for the heat of the kitchen and try this new recipe for building teamwork. Get fired up with your colleagues at this 3-hour, fast-paced kitchen competition brimming with culinary adventure and fun.
In this Iron Chef-style and Chopped-like team building activity, guests are divided into large teams and face off in a timed culinary competition. With our professional chefs as culinary coaches, each team strategizes together to create a meal consisting of a protein, vegetable and starch. Creativity, division of tasks and effective communication within each team are critical for the win. Members of the team that dishes up the best meal win prizes based on presentation, teamwork, and taste. The result? A full sit-down meal garnished with camaraderie and served with a side of competitive edge. Grab your apron and fire up the grill!
Our Kitchen Challenge team building events have been featured in The New York Times, Southwest Airlines Magazine, Business 2.0 Magazine, Gourmet Magazine, and on CNBC and KGO-AM 810 radio.
Pricing & Services
Prices for our Kitchen Challenge experience vary based on guest count, event format and venue rental fees. Prices are based on a minimum of 20 guests. We create a customized proposal(s) for your group. Cost is all-inclusive of professionally trained staff, ingredients, venue fee, party rentals, travel fee (if applicable), non-alcoholic beverages, and service fee.
Our event sales team stands by ready to give you all the details including a customized proposal for your event. Ask us about event enhancements including optional appetizer and menu upgrades, custom logo aprons, wine education sessions, meeting facilities, specialty rentals and more.
Our proposals are all-inclusive except for wine and beer – there are no hidden fees!