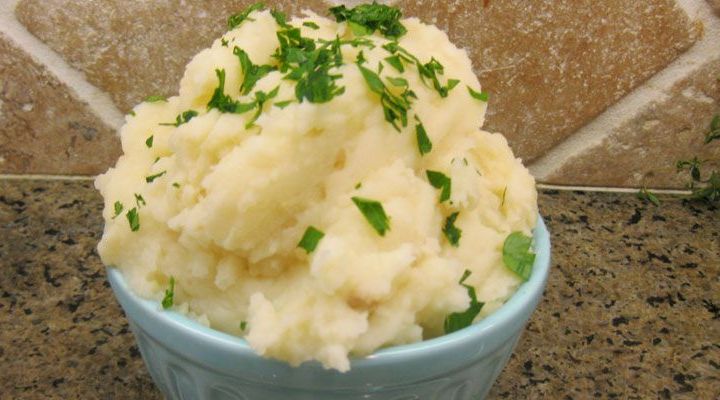 Thanksgiving Recipe: Creamy Garlic Mashed Potatoes Recipe
Ingredients
Roasted Garlic:
2 small heads garlic
1 Tablespoon extra virgin olive oil
Potatoes:
2 1/2 pounds Yukon Gold potatoes, washed and peeled, cut into 1-inch pieces
1/4 pound unsalted butter, cut into pieces
One 8-ounce package cream cheese, cut into pieces
1/4 cup heavy cream
1/2 teaspoon white wine vinegar
2 teaspoons kosher salt
1/2 teaspoon freshly ground black pepper
1/4 cup flat-leaf parsley, chopped
Methods/Steps
Preheat oven to 450°F.
Roast Garlic: Cut off the top (stem end) of both heads of garlic. Place the garlic bulbs in a piece of foil and drizzle with the olive oil. Wrap tightly and roast in the oven until completely soft and caramelized, about 45 minutes. Let cool slightly, then squeeze out the cloves into a small bowl and roughly mash.
Prepare Potatoes: Bring a large stockpot of water to boil with 1 Tablespoon of kosher salt. Place potatoes in the stockpot and boil them over high heat, uncovered, for 15-20 minutes or until soft. Drain them, reserving 2 cups of potato cooking water. Mash them with a potato ricer or pass them through a food mill. Then pass the cream cheese and the butter though the ricer/food mill. While hot, add the garlic, heavy cream, white wine vinegar, salt and pepper. Mix until smooth with a wooden spoon. (Don't over mix or potatoes will become gummy.) If potatoes are too stiff, add some of the reserved cooking water. Right before ready to serve, add parsley. Reheat potatoes in a bowl over boiling water (like a double boiler).
Recipe created by Parties That Cook®
Serves/Makes
Serves 8