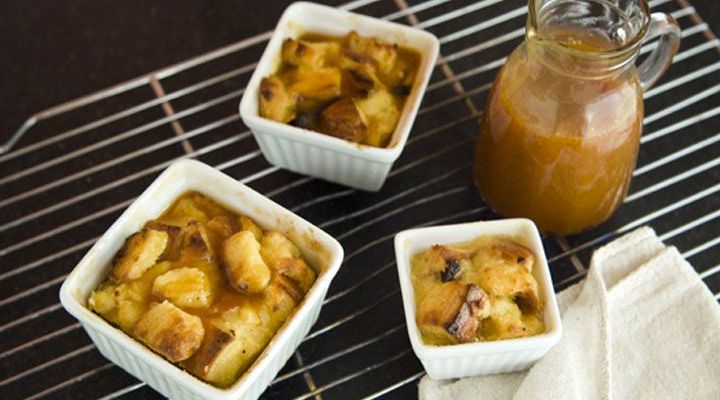 Thanksgiving Recipe: Pumpkin Brioche Bread Pudding with Caramel Sauce Recipe
Ingredients
Pumpkin Bread Pudding:
2 Tablespoons butter, melted
Granulated sugar for dusting the pan
7 egg yolks
1/2 cup sugar
2 cups whole milk
2 cups heavy cream
1 1/2 cups unsweetened pumpkin puree
1 1/2 teaspoons vanilla extract
1 1/2 teaspoons ground cinnamon
1/2 teaspoon ground ginger
1/4 teaspoon ground nutmeg
1/8 teaspoon ground allspice
1/8 teaspoon ground cloves
1 1/2 teaspoons kosher salt
7 cups of cubed brioche or white bread (crusts removed, cut into 1/2-inch cubes)
Caramel Sauce:
3/4 cup sugar
1/4 cup water
1/4 teaspoon kosher salt
Pinch of cream of tartar
1 cup heavy cream
Garnish:
Powdered sugar for dusting
Methods/Steps
Prepare ramekins: Preheat oven to 375°F. Butter 12 small ramekins or an 11x17 baking dish. Dust with granulated sugar.
Prepare and Bake Bread Pudding: Whisk the egg yolks in a bowl with the 1/2 cup sugar. Heat the milk and cream in a saucepan over medium heat until steamy but not boiling. Turn off the heat and add the pumpkin puree, vanilla, cinnamon, ginger, nutmeg, allspice, cloves and salt. Stir to mix. Slowly, pour over the egg yolks/sugar mixture while whisking. Gently fold in the bread cubes. Transfer the pudding mixture to ramekins set on a baking sheet or to a gratin pan. Bake until nicely browned and set, about 25 minutes (for ramekins) and 40 for gratin pan.
Caramel Sauce: Combine 3/4 cup sugar, 1/4 cup water, salt and cream of tartar in a small saucepan. DO NOT STIR. Bring to a boil and cook until the caramel browns. When the caramel is medium brown, carefully add 1 cup of cream and simmer.
Additional Tips
Serve: Spoon a layer of caramel onto each plate. Unmold the ramekin and put the pudding on top of the sauce or if baked in a gratin dish, place a large spoonful of bread pudding on top. Dust with powdered sugar and serve warm.
Recipe created by Parties That Cook®
Serves/Makes
Serves 12