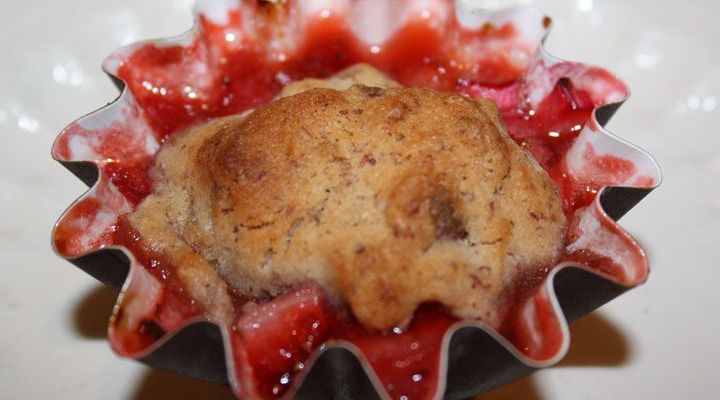 Tiny Strawberry Rhubarb Crisps with Vanilla Bean Whipped Cream Recipe
Ingredients
Filling:
4 cups fresh rhubarb, 1/4-inch diced (about 6 stalks or 1 pound)
4 cups fresh strawberries, (about 2 pounds) hulled and quartered, if large
1 cup demerara sugar
2 teaspoons grated orange zest
1 Tablespoon cornstarch
1/3 cup freshly squeezed orange juice
1/4 teaspoon kosher salt
Parchment paper
Mini baking molds and spoons or ceramic ramekins for a plated dessert
Topping:
1/3 cup all-purpose flour (can sub brown rice flour)
1/2 cup fine cornmeal
3/4 cup packed light brown sugar
3/4 cup old-fashioned rolled oats (not instant)
1/4 teaspoon of kosher salt
1/2 cup cold unsalted butter, cut into 1/4-inch pieces
2 teaspoons vanilla extract
Vanilla Bean Whipped Cream:
1 cup whipping cream
2 Tablespoons confectioner's sugar
1/2 vanilla bean, scraped or 1/2 teaspoon vanilla extract
Pinch of kosher salt
Mint for garnish if desired
Methods/Steps
Preheat oven to 425°F.
Prepare Filling: Dice the rhubarb into 1/4 inch pieces. Hull and quarter the strawberries. In a bowl, toss fruit with the sugar and the orange zest. Dissolve the cornstarch in the orange juice, then mix into the fruit.
Fill molds: Place baking molds on a parchment lined sheet pan (you can use ramekins, if you prefer). Fill the molds 1/4 full and set aside while preparing topping.
Make Topping: In a large bowl, combine all the topping ingredients and pinch them together with your fingers until mixture resembles coarse sand. Evenly sprinkle topping over mini molds.
Bake Molds: Bake mini molds for 10-12 minutes or until brown and bubbling. Bake large mold for 15-18 minutes or until brown and bubbling.
Whip Cream: In a medium bowl, beat cream, confectioners' sugar, vanilla and salt until soft peaks form. Place into a decorative bowl and chill until ready to serve.
Serve: Place the crisps and mini spoons on a decorative platter. Serve the whipped cream on the side. Garnish platter with mint.
Recipe created by Parties That Cook®
Serves/Makes
Makes 25-30 Mini Crisps or 10-12 Full Size Plated Desserts