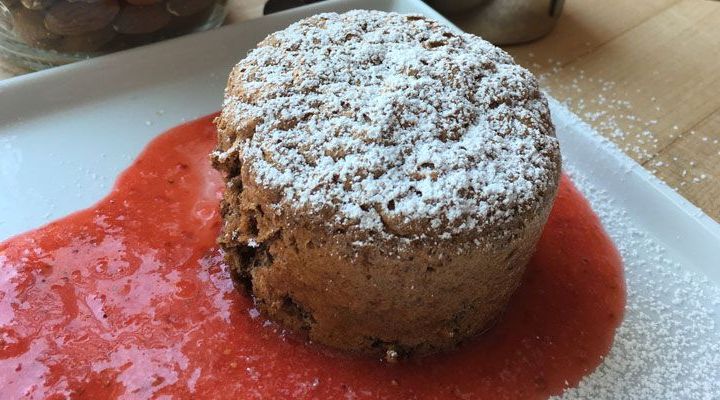 Torta di Mandorle: A Flourless Chocolate Cake with Almonds Recipe
Ingredients
Ramekins:
Non-stick cooking spray
¼ cup sugar
8 disposable or ceramic ramekins
Cake:
5 ½ ounces almonds, toasted
5 ½ ounces high-quality bittersweet chocolate, finely chopped
½ teaspoon salt
6 large eggs, separated
½ cup sugar
Raspberry Sauce:
¼ cup sugar
½ cup water
1 pint fresh raspberries
2 Tablespoons powdered sugar, for garnish
Methods/Steps
Prepare Ramekins: Preheat the oven to 350°F. Using non-stick cooking spray, spray ramekins. Sprinkle each ramekin with sugar. Place onto a sheet pan and set aside.
Cake: Put the almonds, chocolate, and salt in a food processor. Finely grind mixture using on-off pulses. Set aside.
Combine the egg yolks with half of the sugar in a bowl of an electric mixer fitted with the whisk attachment. Whip on high speed for about 3 minutes, until slightly increased in volume. Decrease the speed to low and mix in the ground nut mixture. The batter will be very stiff.
In a separate bowl, beat the egg whites on medium speed until frothy. Increase to high speed and whip the whites until soft peaks form. Add the other half of the sugar and whip until the whites are stiff. Fold the whites, in batches, into the almond batter. Don't over mix. Pour batter into ramekins and bake for 10-15 minutes until a skewer inserted in the middle comes out clean. Cool slightly and unmold.
Raspberry Sauce: In a blender, puree sugar, water and berries until smooth. Strain into a bowl.
Additional Tips
Plated Dessert Service: Spoon the raspberry sauce on to a dessert plate. Invert ramekins to remove cakes and gently place on top of sauce. Garnish with powdered sugar and fresh berries, if desired.
Recipe created by Parties That Cook®
Serves/Makes
Makes 8 cakes