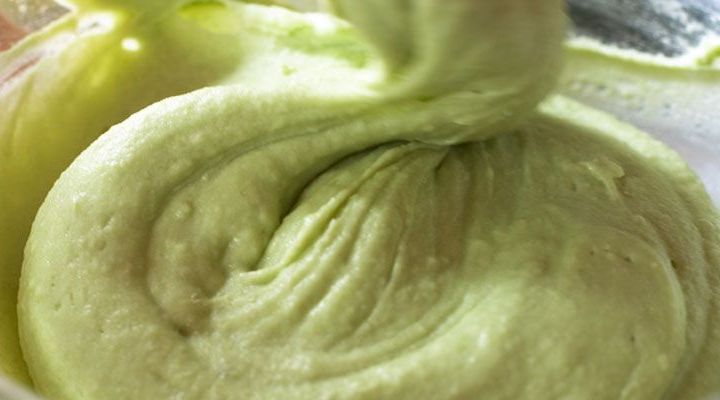 Wasabi Mashed Potatoes
Ingredients
Mashed Potatoes:
4 pounds russet potatoes, peeled, cut into 1-inch pieces
1 Tablespoon kosher salt for boiling the potatoes

Wasabi Puree:
1 bunch spinach, washed and tough stems removed
1/4 cup (1/2 stick) butter
1/2 cup milk or heavy cream
2 Tablespoons Wasabi powder
1 1/2 Tablespoons kosher salt
Methods/Steps
Cook Potatoes: Bring a large pot of salted water to a boil. Add 1 Tablespoon of salt. As you peel and cut the potatoes, put them in a large bowl of cold water to prevent oxidization. When all the potatoes have been peeled and cut, drain the potatoes and transfer them to the large stockpot of boiling water. Boil until completely tender, about 20 minutes. Reserve one cup of the cooking liquid, then drain. Set aside.

Wasabi Puree: While the potatoes cook, bring 6 cups of water to a boil in a medium saucepan. Add the spinach and blanch for 1 minute then drain. Shock the spinach in an ice bath to stop the cooking process and to chill the spinach. Squeeze out all of the excess water in the spinach and puree in a blender or food processor until smooth. Set aside.

Heat Milk: Combine the butter, milk, Wasabi powder and salt in a small saucepan. Heat until the butter is melted and the powder is dissolved.

Mash Potatoes: Using a food mill or ricer, mash the potatoes into a clean stockpot. Add the Wasabi/milk mixture to the potatoes then slowly start adding the spinach puree until potatoes are "Wasabi" green in color. You may not need all of the puree. Adjust seasoning with salt to taste.
Recipe created by Parties That Cook®
Serves/Makes
Serves 8