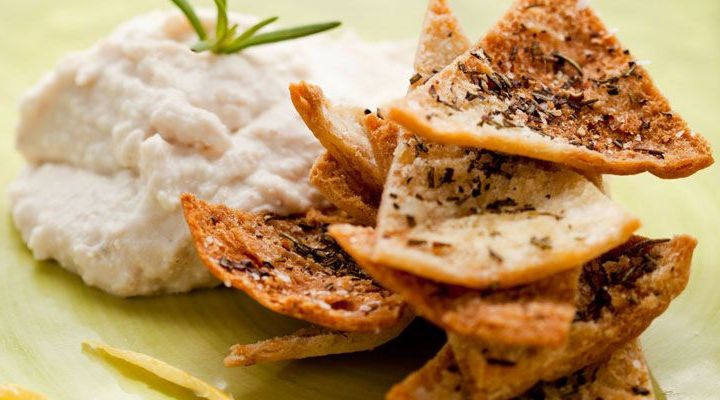 White Bean, Yogurt and Feta Dip with Herbed Pita Chips Recipe
Ingredients
Pita Chips:
10 pieces white pita bread (6-8 inches in diameter)
1/2 cup olive oil
3 Tablespoons fresh chives or dill, finely chopped
1 teaspoon kosher salt
1/2 teaspoon freshly ground black pepper
Dip:
One 15-ounce can cannellini or navy beans, rinsed and drained
1 piece pita bread, torn into pieces
4 ounces good quality feta cheese
One 7-ounce container Greek-style yogurt
1 teaspoon lemon zest
2 Tablespoons freshly squeezed lemon juice (about 1 lemon)
2 cloves garlic, peeled
¾ teaspoon kosher salt
1/4 teaspoon freshly ground black pepper
3 Tablespoons fresh dill, finely chopped plus more for garnish
Preheat oven to 375°F.
Methods/Steps
Bake Chips: Using scissors, cut a circle around the circumference of each pita. Split the pita into two round circles. Cut the circles in half. Cut each half into 4-5 triangles. Lay the triangles inner side up on a sheet pan. Brush each with olive oil, sprinkle with the chives/dill, then generously season with salt and pepper. Toast until golden and lightly crisp, about 10 minutes.
Make Dip: In a food processor, puree beans, torn pita, feta, yogurt, lemon zest and juice, garlic, salt and pepper until smooth. Transfer to a bowl and stir in the dill. Garnish with dill.
Recipe created by Parties That Cook®


Serves/Makes
Makes 2 cups of dip for 24 people