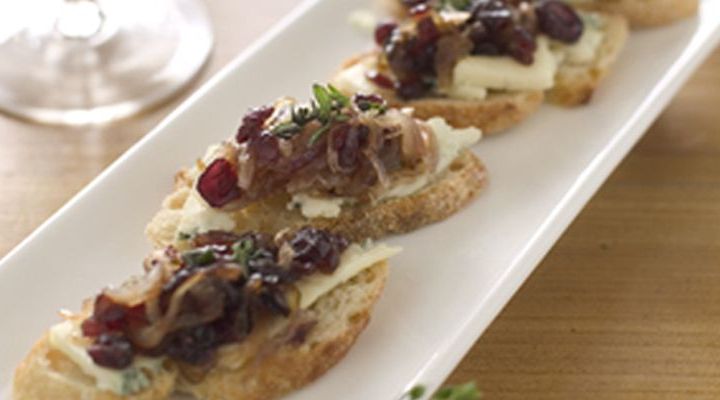 Wild Mushroom Crostini with Teleme and Thyme Recipe
Ingredients
Crostini:
1 baguette
2 Tablespoons extra virgin olive oil for bread plus 1 Tablespoon for cooking mushrooms
3 garlic cloves, peeled

Wild Mushroom Topping:
1/2 pound wild mushrooms
1/2 pound crimini mushrooms
1 Tablespoon olive oil
3 Tablespoons Sherry
1 Tablespoon fresh flat-leaf parsley, chopped
1 teaspoon fresh thyme leaves, chopped
1 Tablespoon fresh mint, chopped
1 1/4 teaspoons kosher salt
1/4 teaspoon freshly ground black pepper
1 cup coarsely grated Fontina cheese
1/2 cup grated Teleme cheese
2 Tablespoons lemon juice
Whole leaves of flat-leaf parsley as a garnish
Methods/Steps
Make Crostini: Preheat oven to 350ºF. Slice bread diagonally into 1/2-inch thick slices. Brush bread with olive oil and toast bread until crisp, about 10-15 minutes. Rub each side of the toasts lightly with peeled garlic cloves.
Cook Mushrooms: Brush the mushrooms with a damp mushroom brush and then coarsely chop them. In a large skillet over medium-high heat, heat the olive oil. Add the mushrooms and Sherry and cook, stirring occasionally, until golden and the liquid has evaporated, 7 minutes. Add the parsley, thyme and mint and toss together. Add the salt and pepper. Remove from the heat and transfer to a mixing bowl. Add the cheeses and lemon juice and toss together.
Broil: Preheat the broiler. Evenly distribute the mushroom/cheese mixture on top of each toast. Place the toasts on a baking sheet in a single layer and broil until the cheese melts, about 1 minute. Garnish each crostini with a parsley leaf. Transfer to a platter and serve immediately.
Recipe created by Parties That Cook®
Serves/Makes
Makes 24