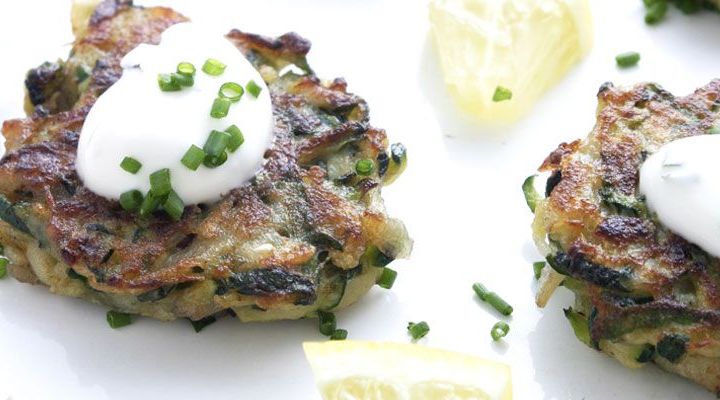 Zucchini Pancakes with Feta, Capers and Mint Recipe
Ingredients
Zucchini:
3 ¾ cups coarsely grated zucchini (from about 3 medium zucchini
¾ teaspoon kosher salt
Pancake Batter:
2 large whole eggs
2 egg yolks
¾ cup + 2 Tablespoons all-purpose flour
¾ cup feta cheese, crumbled
¼ teaspoon white wine vinegar
½ teaspoon lemon zest
¾ teaspoon kosher salt
1 ½ cups Italian parsley, chopped
¾ cup green onions, chopped
1 Tablespoon capers, rinsed and chopped
1 Tablespoon mint, chopped
½ cup canola oil for frying
Yogurt:
½ cup Greek yogurt
¼ teaspoon mint, chopped plus sprigs for garnish
¼ teaspoon lemon juice
1/8 teaspoon kosher salt
Methods/Steps
Prepare Zucchini: Toss grated zucchini with salt in large bowl. Let stand 5 minutes. Transfer to sieve. Press out excess liquid; place zucchini in dry bowl.
Batter: Mix in whole eggs, egg yolks, flour, feta, vinegar, lemon zest and salt. Mix in parsley, green onions, capers and mint. If batter is very wet, add a tablespoon more flour.
Cook Pancakes: Heat ¼ cup canola oil in a large skillet over medium heat. Working in batches, drop batter by rounded tablespoons into skillet. Fry patties until golden, 3 minutes per side, adding more oil if necessary between batches. Transfer to a sheet pan lined with paper towels.
Combine Yogurts: In a small bowl, combine yogurt, mint, lemon juice and salt.
Serve: Serve pancakes with a dollop of yogurt and garnished with a sprig of mint.
Recipe created by Parties That Cook®

Serves/Makes
Makes 24 Zucchini Pancakes