Now Hiring
Chefs, Servers & Dish Washers in San Francisco, Chicago, and Portland.
Marketing Intern in San Francisco.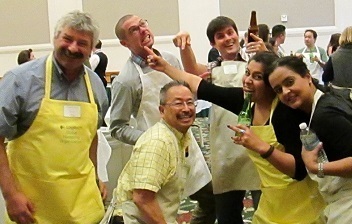 Read Up On Our Blog

12.27.13 – This touching event flashback could have you reaching for a tissue. "Go" here.

12.20.13 – Step inside the mind of PTC staff and read their first impressions here.

12.13.13 – Grab a seat and enjoy a delicious meal with loved ones, family-style. Be inspired here.

12.03.13 – One PTC dishwasher dishes on what she loves about her job. Appreciate more here.
What Clients Are Saying
"Parties that Cook was a great hands on team building activity that helped our staff work with staff members they may not work with on a regular basis."
Ginamarie Gianandrea, Pacific Business Group on Health
"All of our clients enjoyed themselves, laughing, relaxed and chatting with everyone. Frankly, we didn't have to do much to make sure they had a good time - it happened all on it's own!"
Isabel Labrecque, Bizo
"Loved our event. Our best annual retreat to date!! Everyone had the best time!"
Marie Peralta, Barney and Barney
"The best part was seeing our teams come together and bond in a new and unique way. The event was successful because it incorporated so many elements (comedy, cooking, competition, camaraderie!)."
Marissa Kuenzi, Nike

Know someone who plans corporate events?
Earn cash when you refer!
Kick Off 2014 with Team Cooking & FUN!
If you're still celebrating a fantastic 2013, it's not too late to book a January cooking party! Already have your sights set on Q1? There's no better way to motivate your team, launch a new product, or simply start the year off right. Engaging and fun for all group sizes, we can handle up to 350 guests at a venue near you. Contact us today to start planning an unforgettable event.

Receive complimentary recipe deck cookbooks for every event guest when you book by January 31. *Not valid with other offers. Only applies to new bookings.

Plan Your Event!

Happy New Year!
The Parties That Cook Team
Cooking Classes
back to the top
What: Date Night Couples Cooking
Whip up a romantic evening for you and your date at this hands-on cooking class. Mingle with other fun couples while creating a delicious gourmet meal together. Recipes and photos are emailed to attendees after the event, so you can hone your skills and enjoy your favorite dishes again and again!
Where: Dacor Kitchen
When: Jan 24 | Feb 1 | Feb 15 | Mar 8 | May 11 | July 26 | Oct 18 | Nov 8
What: Date Night Couples Cooking
Grab a date, and join our lively chefs at this hands-on cooking class. Heat up the kitchen as you learn new culinary skills and meet other fun couples. With recipes and photos emailed to attendees after the event, you can practice your new skills and recreate your favorite dishes whenever you like!
Where:Charlie Baggs Kitchen or Centered Chef
When: January 25 | February 14 | May 10 | August 16 | November 8
Media
back to the top

| | |
| --- | --- |
| | Step up your home cooking this year. We know it was on your resolution list! PTC Founder & CEO, Bibby Gignilliat, has the perfect recipe to kick start your goal. The trick is: it's already super simple! Be amazed by what you can cook here. |
Shop
back to the top
Couples cooking classes are the perfect way to spice up "Date Night". Give your Valentine a cooking class gift certificate they can redeem anytime throughout the year.

Or take charge and plan a romantic evening with Parties That Cook! This Valentine's Day, special menus featuring aphrodisiac ingredients make things even hotter.

Looking for a small gift that packs a punch? More Sumptuous Small Plates,
featuring 30 delicious recipes, party tips and mouthwatering photos, does just that.

Check out more gift ideas here.