Read Up On Our Blog

6.12.13 – In a rut? See how PTC's Bibby Gignilliat found her aha moment. Get your groove back from The Live Well Space here.

6.14.13 – As if this summer wasn't hot enough, the Chicago team dishes on a recent corporate cook-off. Turn up the heat here.

6.18.13 – Colorado loans us one of their own for the summer. Meet our newest marketer here.

6.21.13 – Ever wonder WHY we do what we do? Find out as we break down our Kitchen Challenge event here.

7.3.13 – Feeling melon-choly after the 4th of July? Try this unique gazpacho recipe! Snap back into summer here.
What Clients Are Saying
"I knew it would be perfect for a team building event. The best part was the excitement of cooking with mystery ingredients and the competitive spirit it brought out in everyone."
Sheetal Kapani, Silicon Valley Bank
"It was really fun, perfect for our group size, and priced reasonably. There were a lot of great things about our event: the easy instructions, great atmosphere and people."
Micah Sharp, Red Giant
"Going into the event my group told me they weren't skilled in the kitchen. You gave them the confidence to do something out of their comfort zone. We typically go to dinner as a group, but only sit there. This allowed us to move around and interact with everyone."
Kiza Miller, Nike, Inc.
Introducing Taste & Technique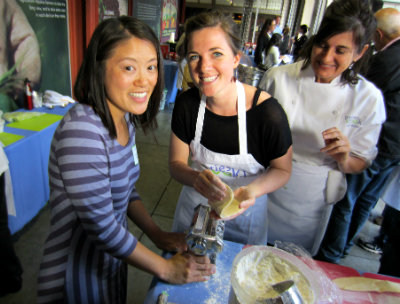 Some of you may have attended our recent Appreciation party where we unveiled a new "reception-style" event format – part cooking, part demo, part mingling, all delicious. It was such a hit, this passport event is now available for your next large corporate function. At Taste & Technique, guests participate in a series of interactive food stations, earning passport stamps as they go. Perfect for company-wide summer celebrations, networking receptions, client appreciation and holiday parties. Inquire now!

Bon Appetit!
The Parties That Cook Team
Cooking Classes
back to the top
What: Date Night Couples Cooking
Whip up a romantic evening for you and your date at this hands-on cooking class. Mingle with other fun couples while creating a delicious gourmet meal together. Recipes and photos are emailed to attendees after the event, so you can hone your skills and enjoy your favorite dishes again and again!
Where: Dacor Kitchen
When: July 19 | August 16
What: Date Night Couples Cooking
Grab a date, and join our lively chefs at this hands-on cooking class. Heat up the kitchen as you learn new culinary skills and meet other fun couples. With recipes and photos emailed to attendees after the event, you can practice your new skills and recreate your favorite dishes whenever you like!
Where: Charlie Baggs Kitchen
When: August 16 | October 19
What: Date Night Couples Cooking
You and your date will turn up the heat at this hands-on cooking class. Create a tasty gourmet meal together as you meet other fun couples. Recipes and photos are emailed to attendees after the event, so you can sharpen your skills and recreate your favorite recipes again and again!
Where: Seattle Wine Outlet
When: September 28
What:Date Night Couples Cooking
Spend quality time with your sweetie, learn new culinary skills, and make foodie friends while you cook. With recipes and photos emailed to attendees after the event, you can reminisce and recreate your favorite dishes together at home.
Where: Bargreen Ellingson
When: September 28