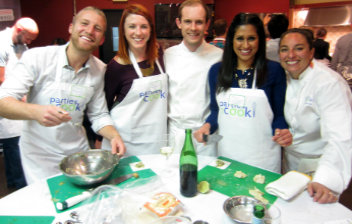 What Clients Are Saying
"Our staff chose to do a cooking event so when I looked up who had the best ratings and positive feedback, PTC was always on the list of favorites"
Joel Raymundo, Bay Area Council
"The event was a success because it was well organized by your staff, which made it fun and easy for the guests."
Michelle LeBiavant, Morrison & Foerster LLP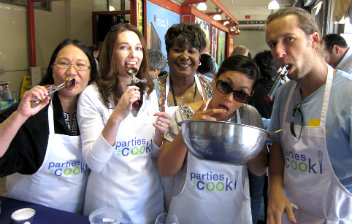 Know someone who plans corporate events?
Earn cash when you refer!
Hot-Off-The-Grill Summer Menus
Perfect for Team Building
Summer is officially here, and today marks the launch of Parties That Cook Summer Menus. Our Executive Chef was inspired by the bounty at local farmer's markets and our new recipes will be a hit at your upcoming corporate team building event or private party. Here are some fun menu themes to inspire your summer cooking party!

Dressed to Grill
back to the top
Ready for a grill-off with your colleagues? Your team will clamor to sear off these delicious dishes together, comparing grill marks while achieving high marks.

- Grilled Steak Yakitori with Shiso Bearnaise
- Tunisian Lettuce Wraps with "Charmoula" Marinated Grilled Lamb and Carrot Yogurt Sauce

- Crispy Potato Skins with Creamed Greens and Bacon